Creating a www.mathclass.org Placement Exam
Accounts and Permissions
• First you need a WHS account. If you don't already have one then go to www.mathclass.org ->"Register in WHS"
and create your account.
– This is a basic student account. See www.mathclass.org-> For Students  for  information on the basic account
• Login to your new account, select "Help" at upper right on the header and request that your account be upgraded to "teacher"
– Teacher-level access is needed to create and administer Placement Exams
– See www.mathclass.org -> For instructors for information on the   teacher account
WHS Teachers


• Teachers create and administer WHS classes (including placement exams) using class lists of materials prepared by WHS authors.
• To create a class you need to know which list to select. To create an exam you need to know which exam to select from the list.
• Information about Placement Exam lists is  available through the placement exam program
Steps in Creating an Exam Session
First create an exam class (see below).  One class will generally support numerous exams so one will suffice to get started.
• The when created the class is associated with a list of possible exams.
Once the class with its program of exams is established you schedule sessions of the exam at specific times
Creating A Placement Exam Class
• Placement Exams are special types of examinations in WHS classes.
• To create exams you must be able to create WHS classes. For this you need teacher privileges
• Once you have teacher status, login to your account and, as illustrated below, select "Instructor Tools" from "Tools" on the main menu.
• Select "New Class" on the "Select Class" menu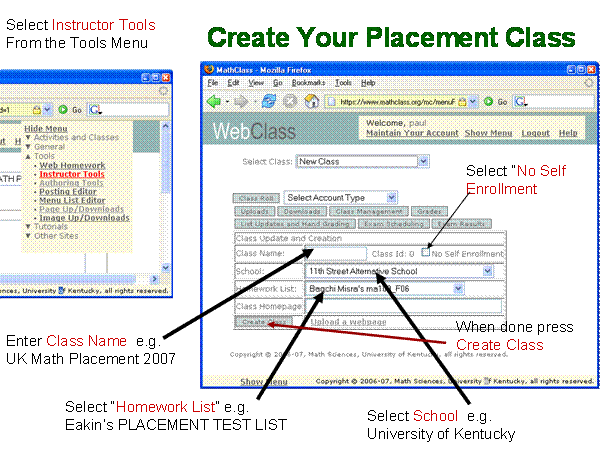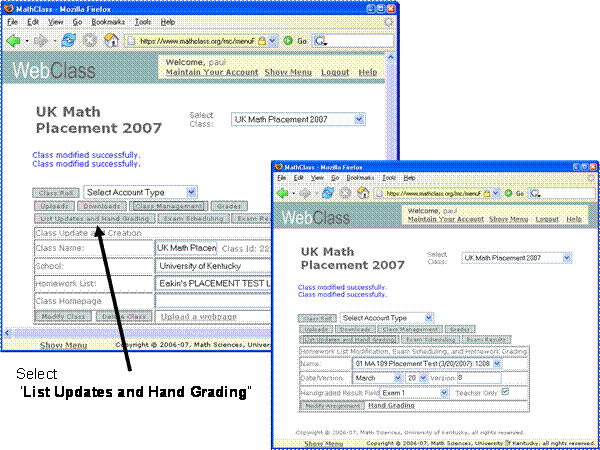 Creating an Exam
• Your class comes with a program of exams specified by the list. It is possible for you to change some of the exam parameters set by the list author.  It is strongly suggested that you use the author's settings at first.
• The most important author parameter at first is the expiration date (illustrated below). This is the latest date that the exam can be used from that list.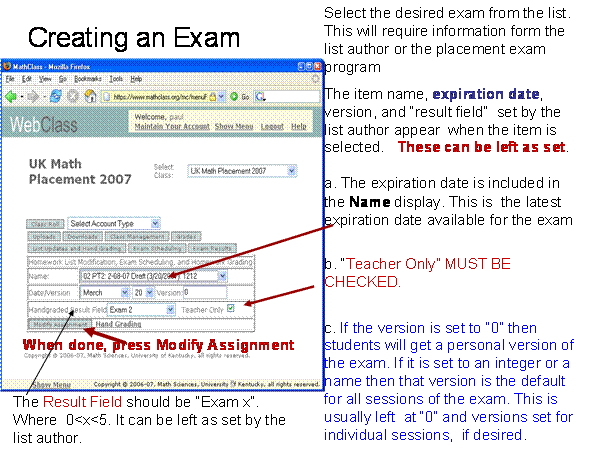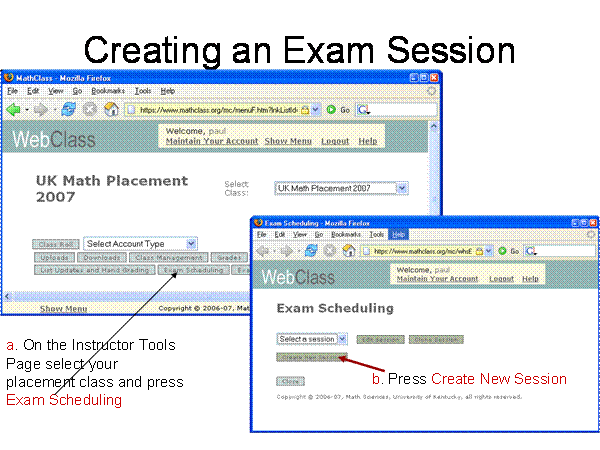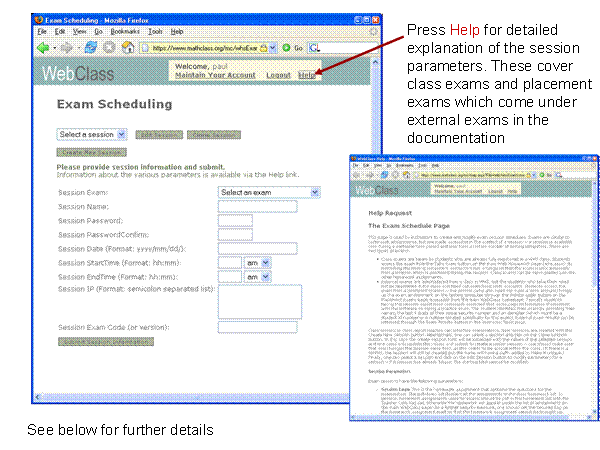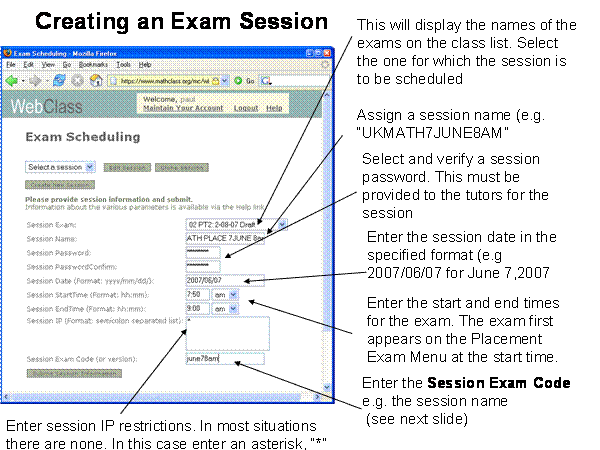 Be Careful With Session Times
• The session times entered will be interpreted by the system as "Lexington Time", i.e. Eastern Standard Time or Eastern Daylight Time.
• In December, for instance, an exam intended to start at 9:00 a.m. Central Standard Time should be given a 10:00 a.m. start time.
Explanation of the Session Exam Code
• A given session can be  configured for everyone in the session to take the same exam or for everyone to have a randomly assigned version. This is determined by the Session Exam Code
• If the code is a character string NOT BEGINNING IN "X" OR "x" then each student gets a version of the exam determined by that string. The session name or date/time are good session codes since they should be different for different sessions.
• If the code begins with an "X" or "x" then each student gets a random version of the exam.
Cloning Sessions
• Once an exam session is set up it is possible to make additional sessions of the same exam with very little effort.
• Select the session in the Exam Scheduling
menu, press "Clone  Session", change the  session parameters as needed and press the "Submit Session Information" button again.
• See illustration below